Choose from lots of healthy, cheap and tasty Recipes for Breakfast, Smoothies, Salads, Soups, Main Dishes, Snacks And Desserts.
1. Lemon & Dill Chickpea Salad
Prep time: 15mins, Total time: 15mins
Ingredients:
For the Salad:
2 (15-ounce) cans chickpeas or 3 cups cooked chickpeas
1 medium thin-skinned cucumber, often called Hothouse or English
6 small tomatoes
1 1/2 ounces feta cheese (dairy free or vegan substitute 1/2 cup chopped cauliflower)
For the Dressing:
1/4 cup (60 ml) fresh lemon juice (1 large lemon)
1/4 cup (60 ml) extra-virgin olive oil
1 teaspoon Dijon mustard
1/2 teaspoon honey
1/4 cup coarsely chopped fresh dill
Salt and fresh ground black pepper
Directions:
Open, drain and rinse the chickpeas, and then add to a large bowl.
Cut the cucumbers into quarters, lengthwise, and then chop into bite-size chunks. Cut the tomatoes into small wedges. Add the cucumbers and tomatoes to the chickpeas then break the feta cheese into crumbles on top.
In a medium bowl, make the dressing. Whisk lemon juice, olive oil, mustard, honey, and the fresh dill together then season with salt and pepper, to taste. Pour the dressing over the salad and toss.
2. Apple Pie Smoothie
Ingredients:
1 cup unsweetened almond milk
1/4 cup of gluten free super oats
2 large red apples (I used Granny Smith apples) cored
1 frozen banana
1 cup ice
1 teaspoon ground cinnamon
pinch of ground nutmeg
1-2 pitted dates (optional).
Directions:
Place the almond milk and gluten free super oats in the blender and pulse for 20 seconds.
Lets stand for a minute to allow the super oats to soak up some of the moisture.
Add all other ingredients to the blender. Blend everything on a high setting for 1 minute or until all ingredients are at a smooth consistency (additional almond milk may be added if needed).
Pour smoothie in favorite cup and sprinkle with cinnamon. Enjoy
.
3. Cherry, Pecan & Tarragon Chicken Salad
Ingredients:
2 cups cooked cubed chicken (I find roasted chicken makes the most tender for a salad)
About 10 fresh (organic)cherries, washed, pitted and roughly chopped (grapes would be great too)
1/4 cup toasted pecan pieces
1/4 cup green onions (scallions) chopped up
2 tsp packed finely chopped fresh tarragon
1 tsp packed finely chopped fresh basil
3-4 Tbls cold coconut cream* (canned or homemade)
Sea salt to taste
Fresh ground black pepper to taste
* Coconut cream is the thick cream that rises to the top of your coconut milk. You can easily get up to 1/2 cream from a can coconut of full fat coconut milk. Try to buy cans that are BPA free, such as Native Forrest or coming this fall Natural Value (BPA, organic & Guar gum free).
Chill a can of coconut milk for a few hours, pop it open and scoop out the thick cream. Try to get as little liquid as possible. Use the leftover liquid to add to smoothies and baked goods.
Directions:
Prepare and combine all ingredients (as stated above) in a medium sized bowl. Mix well.
Serve with butter or romaine lettuce for a nice chicken salad wrap.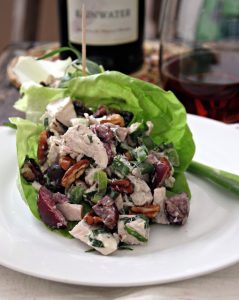 4. Popeye's Tropical Punch Smoothie
Ingredients
1 orange
1 avocado
1 cup pineapple
2 cups of organic baby spinach
1 cup coconut water
Directions
Place all ingredients in blender in the order listed on the ingredients.
Start with a moderate blending speed for about 20 seconds, then slowly increasing blender speed to high for a total of 1 minute.
To thicken the texture of the smoothie you can also use frozen fruit..
5. Tangy Apple and Beet Salad
Ingredients
2 tablespoons extra-virgin olive oil
1 tablespoon cider vinegar
1 tablespoon minced shallot
1 1/2 teaspoons Dijon mustard
1 peeled, small-dice apple
1 small-dice roasted beet
3 cups coarsely chopped Treviso radicchio
1/3 cup crumbled blue cheese (optional)
Kosher or seasalt
Freshly ground black pepper
Instructions:
…for roasting the beets:
Heat the oven to 375°F and arrange a rack in the middle. Rinse the beets and trim off any leafy tops. Wrap completely in aluminum foil and place in the oven. Roast until tender and easily pierced with a knife, about 1 to 1 1/2 hours. Remove from the oven and let cool.
When the beets are cool enough to handle, peel using a paring knife or by pushing the skin with your fingers.
Slice the beets, drizzle with olive oil, and season with salt and freshly ground black pepper.
Instructions:
…for the salad
Place the olive oil, vinegar, shallot, and mustard in a large, nonreactive bowl and whisk to combine. Add the diced apple and beet and toss until well coated in the vinaigrette.
Add the radicchio and blue cheese and season with salt and pepper. Toss to evenly combine, taste, and season with additional salt and pepper as desired.

6. Chocolate Raspberry Peanut Butter Smoothie
Ingredients
1 avocado
1 frozen banana
1 handful of organic kale
2 tablespoons of natural peanut butter
½ cup frozen, or fresh raspberries
1 tablespoons unsweetened cocoa powder
1 cup almond or coconut milk
Directions:
Place all the ingredients into a blender and blend well.

Here's 10 feel good foods:
1.Spinach – It's rich in iron and a great energy booster that wards off fatigue and aids concentration. It's also a good source of vitamin B6 and folate, which support the brain's ability to produce mood-boosting neurotransmitters, such as serotonin.
2.Sweet potatoes – They're a great alternative to standard spuds as they are rich in folate, plus they are better than white potatoes at keeping blood sugar levels steady.
3.Brazil nuts – They're one of the best sources of the mood-boosting mineral selenium, which can ward off low mood and anxiety.
4.Oily fish – Fish such as sardines and mackerel are rich in omega-3 fatty acids which help the brain to interpret moods and boost concentration levels. Low levels are linked with depression and other mood disorders.
5.Avocados – They're bursting with depression-fighting folate, mood-lifting tryptophan and stress relieving vitamin B6.
6.Eggs – They're a great source of zinc, which helps you to feel more alert and energised by regulating your metabolism and blood sugar levels.
7.Yogurt – It's rich in calcium, a mineral which can ease mood swings, depression and anxiety.
8.Tofu – It's rich in protein, which increases energy levels and improves concentration. It also contains an amino acid called tyrosine, which boosts the brain chemicals norepinephrine and dopamine as well as thyroid hormone, which can all help elevate mood.
9.Bananas – They can balance hunger and mood between meal energy slumps as they help to stabilise blood sugar levels. The fruit's high vitamin B6 content can help to relieve anxiety and stress, and it's also a great source of tryptophan – the essential amino acid the brain converts into happiness hormone serotonin.
10.Bread – Your daily slice boosts levels of serotonin – a neurotransmitter that helps you feel happier and calmer. Wholemeal bread produces less serotonin than white but the energy it produces has more staying power, so you will avoid the slump you can experience soon after eating white bread.
This warm weather has us feeling all summer-ish! This is a staple recipe in our home and I guarantee it will be in yours too!
Ingredients
Vegan, Gluten free
∙ Serves 10
Produce
•1 Avocado, slices
•1 15-oz. can Black beans
•1 15-oz. can Chickpeas
•1/4 cup Cilantro, fresh
•1 15-oz. can Corn
•1 Green bell pepper
•1 4-oz. can Green chiles
•1 Jalapeno pepper
•2 Limes, Juice from
•1 Red onion
•1 15-oz. can Tomatoes
Baking & Spices
•1 Salt and pepper
Mix it all together and ENJOY
7.Protein Pancakes
Protein pancakes are easy. You need 4 basic ingredients: milk, yogurt, eggs and ground oats. All four are rich in protein and make a great pancake mix, the trick is to let it soak.
Classic pancakes are easy to make as long as you use a ton of fat. That's how you make them fluffy, you add melted butter to the batter and then fry. With a healthier option, especially if you use oats instead of flour you need to let them soak first. If you fry them right away, you'll end up crunching on oats so the soaking step is crucial.
Use quality ingredients fresh eggs, milk and Greek yogurt and mix them well. Then mix in ground oats and let it them stay there for 10-15 minutes. Once the mix becomes solid – the oats are all part of the batter and none are floating at the bottom, it's ready for frying.
You can add more yogurt, use a sweetener of your choice – honey, stevia or just plain sugar, you don't need a lot. You can even add a half a scoop of protein powder and it'll take care of the flavour.
If you add oil into the batter before frying, it'll get cooked through faster and more evenly.
.
INGREDIENTS
1 1/8 cup ( 115g ) oat bran or oat flour
1/2 cup ( 115g ) milk 3 egg whites + 1 egg yolk
4 tbsp ( 60g ) plain yogurt
1 tsp olive oil + oil for frying
1 tsp honey or stevia + pinch of salt
Makes 6 pancakes
90 Calories per pancake
6g protein
3g fat
10g carbohydrates
1.Put oat bran into a large mixing bowl. Crack the eggs in, pour in the milk, add honey (or stevia), salt and 1 tsp of olive oil. Add yogurt and mix well.
2.Put aside for 15 minutes to soak.
3.Heat a large skillet over medium heat. Use a sheet of paper towel to moisten it with oil. Spoon 2 to 3 tablespoons of batter onto skillet and cook until set and lightly golden.
4.Flip carefully with a thin spatula, and cook until browned on the underside.
8.Scrambled Eggs
Make your mince go further by adding it to the sauteed cabbage. Either chicken or pork mince will work for this dish. It goes best with full fat Greek yogurt.
INGREDIENTS
6 eggs
50ml milk
sun-dried tomatoes (optional)
butter for frying
salt
Makes 2 portions
200 Calories per portion
18g protein
13g fat
2g carbohydrates
1.Combine eggs and milk in a bowl. If you have them, dice sund-dried tomatoes and add them in.
2.Salt and whisk everything together until smooth and fluffy. If you don't have a whisk, use a fork.
3.Butter a frying pan and preheat on medium heat. Pour the mix into the frying pan and leave for about a minute for the crust at the bottom to form. It should still be liquid-like at the top.
4.The fun part: use the spatula to scramble the eggs! Flip the bits over so they are cooked on all sides.
5.Continue until the eggs are no longer moist and runny. Serve hot.
9.Homemade No-Bake Protein Bars
Protein bars are actually really easy to make on a budget. You just need four basic ingredients: oatmeal, nut butter, cream and protein powder. That's it – you combine all four, chill overnight and slice into bars. It works out a lot cheaper than buying readymade and it's a lot healthier, too.
You can use these bars for breakfast or as a snack, depending on how you slice them. They are ideal pre-workout (sessions 1hr+) and post workout (if you are trying to gain weight and put on  muscle) snacks. It's also an easy way to eat more quality food if you are really skinny and you need to bulk up. If you are trying to lose weight, one of these bars in the morning will help you cut back on snacking during the day keeping you fuller longer.
One batch can last you up to two weeks and should be always kept chilled in the fridge. You can use any milk or cream for the recipe but coconut cream works best. You can buy it in any local supermarket in the Asian foods section, it comes in tins and packets, consistency may vary from brand to brand. Coconut cream and milk are often the same thing, just have different labels. You want to find one with the consistency of cooking cream but not as thick as butter.
We use peanut butter for the recipe because it's the cheapest option. You can use any other butter, coconut or almond butters for example. You can use seed butters if you have a nut allergy. If you have no peanut butter in your country, you can make your own – we've got a recip
This recipe is based on protein powder. We use it, again, because it's cheap. It raises the protein content of the bars and it adds flavour. We use vanilla but you can use any type of protein powder you want as long as it has a flavour – if you use plain protein powder, your bars will come out plain.
If you are not a fan of protein powder or are not comfortable using it, you can still make the bars using this recipe here. You'll just need to add extra flavour to the bars but they'll still come out just as tasty (we use honey for sweetness).
Quick tip: use disposable gloves in the last stage of mixing (when you add oatmeal) – it'll make the process faster and less tedious. Foil or baking paper can be used for the pan lining. We often cover the bars with baking paper as well to prevent them from drying out.
INGREDIENTS
400g uncooked oatmeal (quick oats)
200g peanut butter
250ml coconut cream or milk
6 scoops whey vanilla protein powder
Makes 14 bars
200 Calories per bar
17g protein
14g fat
6g carbohydrates / 2g fiber
1.Pour the coconut milk (or cream) into a large bowl, whisk until smooth if necessary.
2.Add protein powder and continue whisking.
3.Next add peanut butter and mix everything together with a spoon.
4.Add uncooked oatmeal and mix everything together – you may need to use your hands at this point.
5.Line a dish with baking paper or foil, transfer the mix in and flatten it until smooth.
6.Chill in the fridge overnight (or minimum 2hrs) then cut into 12 or 14 bars.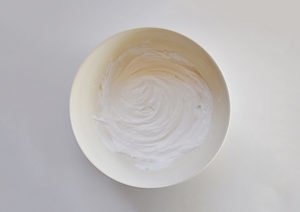 10.Spicy Drumsticks
Use this recipe to make spicy chicken drumsticks; they come out crispy on the outside but the meat inside remains soft enough to just fall off the bone. Adjust spices and the number of drumsticks to fit your needs. The drumsticks are best served with lettuce or cucumber salad.
The key to getting the meat just right is in coating the drumsticks with butter all over. You only need a thin layer. To make the process easy and mess free simply sprinkle the drumsticks with salt, pepper and paprika and then use disposable gloves to rub the butter in with your hands. You can add diced garlic during the step for an extra kick.
INGREDIENTS
10 chicken drumsticks
paprika, pepper, salt
butter
Makes 5 portions
180 Calories per portion
26g protein
8g fat
1g carbohydrates / 0.5g fiber
1.Take the chicken drumsticks out of the packaging (as many as you need) and, if time allows, let them sit until the meat reaches room temperature. Sprinkle the drumsticks with pepper, salt and paprika and coat them in a thin layer of butter.
2.Arrange the drumsticks inside a deep pan and set the hob to a high setting. Cover the pan and set the timer for 1hr.
3.Flip the drumsticks every 15 minutes to help them cook evenly. Serve hot. Add an extra 5-10 minutes of cooking if the meat is still firmly attached to the bone – it should look exactly as the picture below when it's done with the meat shrinking slightly and the bone in-between clearly visible.
Lemony Pea & Ham Pasta Salad
Pasta is certainly one of our go-to favourites for meals, and there's nothing so simple but effective as this ham and pea combo. It tastes delicious hot or cold, and you can mix things up with fried onions, mushrooms, bacon, or cheese if you want. Yum!
Serves 8
Prep time: 5 minutes
Cook time: 12 minutes
Ingredients
400g farfalle pasta
200g peas
150g cooked ham, torn
For the dressing:
3 tbsp lemon juice
1 tsp milk
60g fat-free natural Greek yoghurt
Salt, black pepper, and grated parmesan (optional)
Instructions
Cook the pasta according to the packet instructions. This should take aproximately 10-12 minutes, but the best way to tell if it's ready is a taste!
While the pasta's cooking, whisk together all of the ingredients for the dressing until smooth, and season with salt and black pepper.
Drain the pasta, then toss in the peas and torn ham, then drizzle over the dressing. Toss again until everything is coated.
Per Serving: 201 kcal, 2.9g fat (0.8g saturated), 32.1g carbs (1.9g sugars), 1.1g protein, 1.5g fibre, 0.26g sodium.
11.  Brussels Sprouts Potatoes
This dish is a good source of Dietary Fiber, Vitamin A, Thiamin, Vitamin B6, Folate, Potassium and Manganese, and a very good source of Vitamin C and Vitamin K.